Powr-Flite 20" Floor Burnisher - 1600 RPM
Catalogue code:M1600
Powr-Flite 1600 RPM Millennium Edition Burnisher.
The top rated burnisher in the industry for value, performance and durability!
The M1600 burnisher will give you years of trouble free operation, making it easy to bring the life back to almost any hard floor surface! This machine offers exceptionally smooth operation with a flexible, self-adjusting pad driver that burnishes unlevel surface areas evenly. Our patented design combined with precision balanced weight distribution eliminates the need for a compensating caster. The entire pad is touching the floor, not just a couple of inches like conventional burnishers!
FEATURES
Patented rotationally moulded one-piece housing absorbs vibrations for improved operator comfort
One piece all metal handle housing, tube and trigger assembly for aggressive cleaning
Floating handle for easy operation with safety start-up/lockout
Full pad-to-floor contact, no compensating caster for a high gloss "wet look" shine
Flexible pad driver
Ultra High Speed Burnisher
Easy access to motor and internal components
If Your Burnisher is Not a Powr-Flite, Chances Are it WILL FAIL the Pad Pressure Test.
Take a look at the used pad currently on your burnisher. Is the pad worn completely or just partly? The wear on the pad indicates the amount of pad pressure on the floor (if the pad shows only an inch of wear, then you are burnishing only an inch at a time). With that kind of performance, you have to make more passes on the floor, wasting your time, energy and money. Think of the savings if your pad covered more area. With the Powr-Flite M1600 Burnisher, you get Total Pad-to-Floor Contact. With each pass you make, the pad covers evenly and completely. No wasted time. No wasted energy. No wasted money.
The design and engineering of the Powr-Flite M1600 provides superior performance and precision balance without the need for a compensating caster. Not only are Powr-Flite burnishers more maneuverable, but there is no wheel to prevent the pad from covering the floor. With Powr-Flite, you can pass the Pad Pressure Test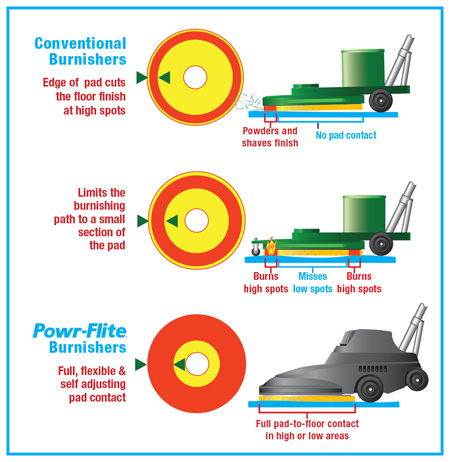 FREE DEMO – Come and visit our Burgess Hill showroom for a free demonstration 8:30am to 5:30pm Monday to Fridays, Saturdays by appointment only. Call one of our trained sales team to book 01444 232211
| | |
| --- | --- |
| Pad Diameter | 20 Inches Full Pad-to-Floor Contact |
| Motor | 1-1/2 hp D.C. Rectified, UL Listed |
| Transmission | Direct Drive No Slip Deep "V" Belt Drive |
| Power Cord | 75 ft. UL Listed 14/3 SJTW-A 75 ft. UL Listed 12/3 SJTW-A |
| Base Housing | One Piece, High Density Polyethylene |
| Pad Driver | Factory Installed Rigid Block Drive Flexible, total 20" Floor-to-Pad Contact |
| Pad Pressure | 7 KG |
| Handle Grips | Anti-Fatigue, Soft to the Touch |
| Cord Strain Relief | Heavy Duty Metal, Lock Nut and Spring |
| Handle Tube | All Chrome 1-1/2 Inch (Fixed) All Chrome 1-1/2 Inch (Floating) |
| Handle Lever | Case Hardened Steel, Positive Lock |
| Operating Wheels | 5 Inch Non-Marking-Self Lubricating 4 Inch Non-Marking-Self Lubricating |
| Transport Wheels | 4 Inch Non-Marking-Self Lubricating |
| Wiring | All Completely Enclosed in Housing |
| Switch Housing | Non Conductive- Commercial Grade |
| Operation Control | Dual Lever On-Off Safety Switch Stress Absorbing. Left or Right Hand |
| Warranty | 10 Yrs Housing, 2 Yrs. Motor, 1 Yr. On Parts & Workmanship |
| Work Rating | (ft2 / hr) 23,500 |
| Shipping Weight | 40 KG |
| Meets European CE Standards | Yes |