A ready to use sanitiser, just wipe on, spray or fog onto any surface.
Kills 99.999% Of Most Bacteria
A fogging chemical with longer lasting protection against new bacteria and virus contamination.
BarrierTech Hard Surface Sanitiser kills and gives an effective lasting protection against Covid-19, bacteria, virus, fungus, mould and algae. Contagious viruses will be inactivated by treatment.
BarrierTech Surface Sanitiser; unlike most other surface disinfectants is alcohol free, gentle on all types of surfaces and has a long residual effect.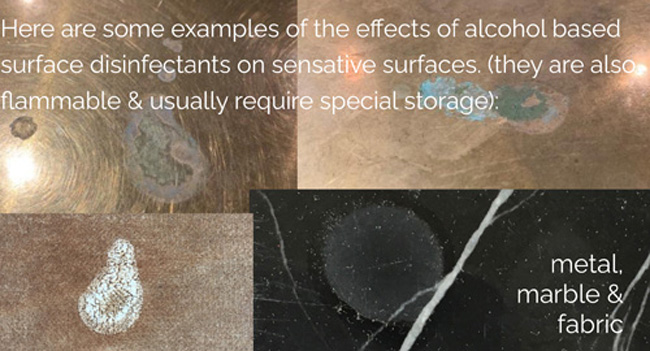 BarrierTech Surface Sanitiser
BarrierTech Surface Sanitiser active ingredient is on the lists, recommended by WHO, ISID, FDA, IATA, Public Health Agency to fight Covid-19.
BarrierTech Sanitiser - it has been proven that the ingredients are highly effective in killing bacteria and inactivating viruses.
Against most bacteria, BarrierTech has a mortality rate of 99.999%. Documented by accredited laboratories.
Based on an innovative mix of quaternary ammonium compounds with a "back-bone" on a food grade polymer that ensures a long lasting effect.
Very safe during use and non-corrosive to skin.
BarrierTech will be active on the surface for more than a week.
For disinfection of surfaces with lasting effect. Surfaces of wood, cement, concrete, glass, metal, plastics, laminated/painted, tiles etc. Suitable for bathrooms, washrooms, kitchens, basements, SPA, swimming pool area, by air conditioners etc.
WoolSafe & Cleanseal Approved
BarrierTech Sanitiser is suitable for use in private homes, institutions, industrial kitchens, food processing areas etc; basically anywhere there is a need to fight and prevent pathogens like bacteria, virus, fungus, mould or algae.
Food preparation and storage areas.
Dishes, glassware, silverware, cooking utensils, plastic and other non-porous cutting boards, coolers, ice chests, refrigerator bins used for meat, vegetables, and eggs. Tupperware.
Kitchen equipment such as food processors, blenders, cutlery and other utensils.
Countertops, Drink dispensing machines, stovetops, sinks, appliances, refrigerators, ice machines.
Glass, metal, stainless steel, glazed porcelain, glazed ceramic, fibreglass, granite, marble, plastic, chrome and vinyl.
Enamelled surfaces, painted woodwork, Formica?, vinyl and plastic and fabric upholstery.
Tables, chairs, desks, bed frames, lifts, washable walls, cabinets, doorknobs and garbage cans.
Exhaust fans, refrigerated storage and display equipment, coils and drain pans of air conditioning and refrigeration equipment and heat pumps.
Large inflatable non-porous plastic and rubber structures: animals, promotional items, moonwalk, slides, obstacle coarse play and exercise equipment.
Citrus processing equipment and holding tanks.
Picnic tables and outdoor furniture.
Telephones.
Highchairs.
Drinking fountains.
Shower stalls, shower doors and curtains, bathtubs and glazed tiles, chrome plated intakes, toilets, toilet bowl surfaces, urinals, portable toilets, porcelain tile and restroom fixtures.
Kennels kennel runs, cages floors, conductive flooring.
Also active on soft materials such as textiles, carpets and leather.
BarrierTech is tested to meet the following standards:
Click to download test results
| | |
| --- | --- |
| Bactericidal | Enterococcus hirae, Escherichia coli |
| EN1276 | Pseudomonas aeruginosa |
| EN13727 | Staphylococcus aureus |
| | |
| Mycobacteriacidal | Mycobacterium terrae |
| EN14348 | |
| | |
| Fungicidal | Candida albicans |
| EN1650 | Aspergillus brasiliensis |
| EN13624 | Listeria monocytogens |
| | |
| Virucidal | Murine Norovirus |
| EN14476 | Vaccinia Virus (Corona Virus) |
| | |
| Virucidal | Avian Influenza H5N1 virus |
| | Influenza A H3N8 virus |
| | Influenza A2 / Hong Kong virus |
| | Influenza A2 / J305 |
| | Hepatitis B virus |
| | Hepatitis C Virus |
| | Herpes Simplex type 1 |
| | Herpes Simplex type 2 |
| | HIV type 1 |
The product is TKVDN registered.
How It Works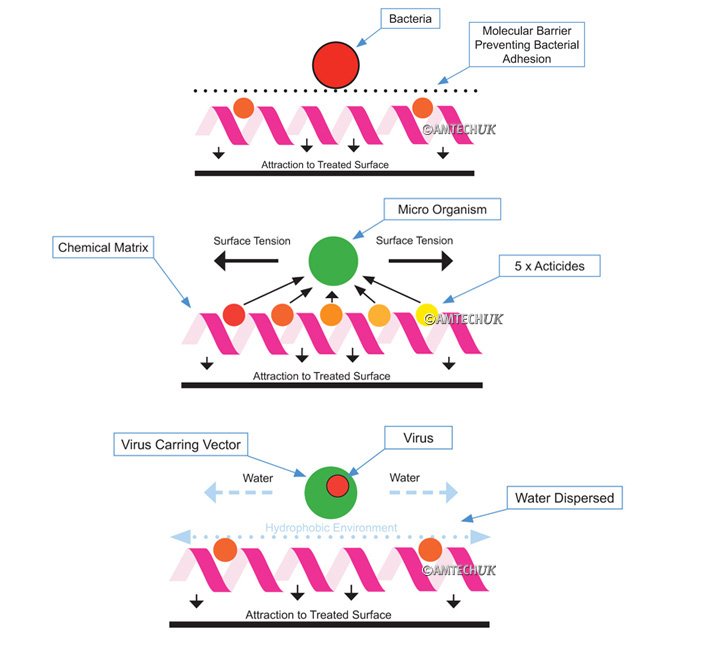 The physical binding matrix backbone of BarrierTech has associated with it, by non chemical bonds, a selected group of well understood Acticides.
The effects of the Acticides are amplified because they are acting upon micro organisms whose ability to reproduce has been severely impaired and are therefore more susceptible due to their age cycle.
How to Use:
Thoroughly clean all surfaces.
Then apply BarrierTech Sanitiser to prevent new attacks and give a long-term protection.
BarrierTech Sanitiser sprayed directly in areas that are prone to attack by bacteria, fungi, mold, algae or viruses.
Allow the product to dry on the surface for 30 seconds duration.
Verify the cleanliness of surfaces with a ' Rapid Protein Residue Test' or ' ATP surface test'.
Aslo suitable to be used in all kinds of fogging machines, both traditional ones and electrostatic foggers.
Test Trial

A trial to assess the residual effect of the sanitizer was carried out and a selected number of surfaces in a standard environment. The surfaces tested were selected in a busy working environment with a high level of activity in a medical centre.
The test was carried out to determine the level of residual activity post cleaning and treatment with BarrierTech sanitizer.
Controls
Surfaces were cleaned as per standard cleaning protocols.
The Test
Surfaces were cleaned and treated with BarrierTech sanitizer
All surfaces were then tested for background ATP levels using a luminometer and surface hygiene swabs.
ATP measurements indicate the level of organic contamination on a surface using the ATP Bioluminescence method. Results are measured in Relative light Units a measurement of ATP (Adenosine Tri Phosphate) the energy carrier molecule in all living cells.
Surfaces were sampled over an 8 week period. Cleaning and treatment of surfaces were carried out on week 4.
Control samples were taken on weeks 1 and 3 to determine the normal background levels encountered on surfaces under normal conditions.
Results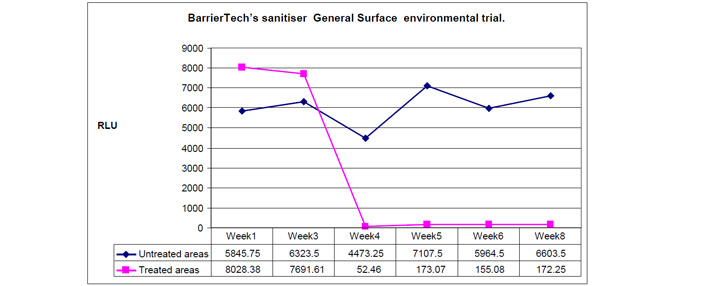 Summary
Samples were taken from both treated and untreated areas. Average results for treated and untreated areas were calculated and plotted on the graph above. Initial post cleaning results for the sanitizer showed a significantly greater removal of organic contamination i.e. improved cleaning efficiency as compared to the standard procedure.
The results also clearly demonstrate the residual activity of BarrierTech sanitizer on treated surfaces as compared to the control surfaces for the 8 weeks testing was carried out.
Surfaces treated with BarrierTech sanitizer once treated maintain significantly lower levels of organic contamination as indicated by ATP levels on the surface and continue to protect the surface from increasing levels of contaminating bio-burden. Maintaining lower levels of organic contamination of a surface helps reduce the risk of the colonisation of microorganisms and possibly pathogens. The lower level background contamination also ensures subsequent cleaning will be more efficient.
Residual protection is as a consequence of the unique molecular construction, binding to the treated surface. Biocidal activity continues even after the microcides are depleted. The rate microcides are depleted is related to level of microbial challenge. microcides can be quickly replenished with further surface treatment.
In areas of high attrition regular treatment will ensure a continued protection is maintained.