BelAir 500Psi 57 Litre Carpet Cleaning Machine
Catalogue code:TMI-2206XG-240V
The BelAir 57 Litre 500 PSI carpet cleaning machine is packed with all the power that a professional needs for cleaning domestic and commercial carpets and upholstery.
Years of experience and market leading technology combined with top brands Lamb-Ametek and Pumptec have been utilized and installed for your piece of mind.
The BelAir uses a Pumptec high pressure solution pump (500psi) to force solution deep into the fibres allowing the loose soils to be easily recovered by the twin 6.6 Lamb-Ametek vacuum motors, set in series for maximum velocity. Superb single pass deep cleaning revives fibres for prolonged wear.
The extra-large 57 Litre solution and recovery tanks for extended use before emptying and refilling.
Features
Easy reach controls.
57 Litre recovery tank.
57 Litre solution tank.
External solution filter (For easy inspection and replacement).
Clamshell designed access for maintenance and repair.
High performance twin 6.6 Lamb-Ametek vacuum motors.
Fully adjustable 500psi Pumptec high pressure solution pump.
Rear vacuum exhaust – attach a hose to maintain air quality and reduce noise.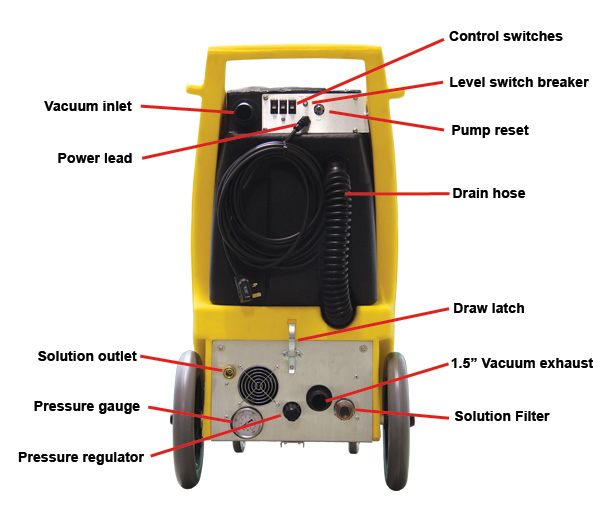 FREE DEMO – Come and visit our Burgess Hill showroom for a free demonstration 8:30am to 5:30pm Monday to Fridays, Saturdays by appointment only. Call one of our trained sales team to book 01444 232211
SPECIFICATIONS
| | |
| --- | --- |
| Voltage | 230v 50Hz |
| Vacuum Motor Power | 2x 1250w |
| Vacuum | 2x Lamb Ametek 6.6 |
| Solution Tank | 57 Litres |
| Recovery Tank | 57 Litres |
| Pump Type | Pumptec 217V |
| Pump Pressure | 500 psi |
| Dimensions (L x W x H) | 30" x 21" x 39" |
| Weight | 50kg |
| Cable Length | 8 Meters |
| Warranty | 1yr parts/labour |
| Meets European CE Standards | Yes |