HydroCap Chemical Dispensing System
Catalogue code:MA002400
HydroCap™ chemical dispensing system offer a low-cost, portable means of accurately diluting concentrated cleaning products for use in buckets, bottles, auto scrubbers, sinks, tanks and other containers.
The HydroCap™ proportioner has been designed to meet your needs when conventional, wall-mounted systems won't do. Simply mount the cap proportioner to your chemical concentrate bottle, connect it to an available water source, and you're ready to go!
Mobile: Take it anywhere! You don't need a wall or a cart, it goes anywhere you can find water and carry your chemical container!
Low Cost: Even with all of its features, it fits any budget!
Fits virtually any container: The standard

HydroCap™

comes with a 38mm cap, the standard for 1 gallon, 5 litre, 2 litre, and other containers. And it's flexible enough to use with virtually any cap, you supply us the cap and we can assemble a model for you (minimums apply).
Multi-Use: Perfect for filling spray bottles, buckets, auto scrubbers, sinks, tanks, or practically any other container you can think of!
Accessories Included For Easy Use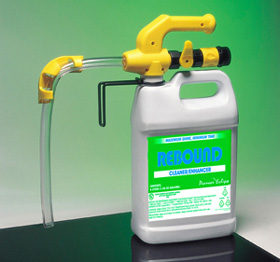 Male and female quick-connects to make it easy to attach to a water hose, saving you time and money.
On/off valve to allow you to shut off the unit at hose end, not back at the water source, making it easy and quick for you to fill multiple containers.
Metal right-angle bracket to allow you to hang the proportioner and chemical bottle over the side of the bucket or auto scrubber when filling – very convenient!
Molded right-angle bracket to bend discharge tubing for easy filling of bottles, buckets or other containers.
4 ft. discharge tube for bucket/scrubber filling – can be cut to desired length for bottle filling.
15 metering tips give you a wide range of dilution options to meet almost every need! (Additional tips available for leaner dilutions).
Use It Anywhere
There's an application for the HydroCap™ proportioner in almost every cleaning environment.
Food Service: Use it as a low cost proportioner for sink filling, or for bottle and bucket filling of surface and floor cleaners for interior and exterior areas.
Industrial: Use it for filling of walk-behind or ride-on auto scrubbers, remote cleaning, and filling tanks with diluted solutions.
Health Care: Use it for re-filling mop buckets for patient room cleaning.
Supermarkets/Retail: Use it for auto scrubber-filling for interior or exterior cleaning.
Contract Cleaning: Use it anywhere you don't have easy access to a base station proportioning system, and for remote carpet cleaning applications.
Flow Rate: 4 GPM
Available Dilutions: Max=420:1 Min=6:1