Pioneer Eclipse Atlas Alcohol Resistant Floor Coating (4 Litres)
Catalogue code:115MPE
Alcohol Resistant Floor Coating
Pioneer Eclipse Atlas Floor Coating is a unique polymer blend that is durable, repairable and removable. Specially formulated to be resistant to alcohol based hand sanitisers.
This product is a single component formula that does not require mixing or specialized equipment and application processes to achieve superior alcohol and iodine resistance.
Durable, repairable & removable
Alcohol resistant
No mixing required
Easy to use
How Atlas Alcohol Resistant Floor Coating compares to other coating types
Atlas Alcohol
Resistant Coating
Dri-Brite Coating
Conventional Coating
Ultra Durable Coating
Abrasion Resistance
Good
Good
Fair
Excellent
Alcohol Resistance
Excellent
Poor
Poor
Good
Soil Resistance
Excellent
Good
Good
Excellent
Initial Gloss
Excellent
Excellent
Good
Fair
Repairability
Good
Fair
Excellent
Poor
Removability
Good
Good
Excellent
Poor
How Atlas STAIN RESISTANCE compares to leading competitive coating
Test results comparing Atlas floor coating with a leading competitive coating demonstrate Atlas' superior resistance to isopropanol, hand sanitizer and iodine from 5-minute through 24-hour dwell times at 24-hour and 7-day cure times.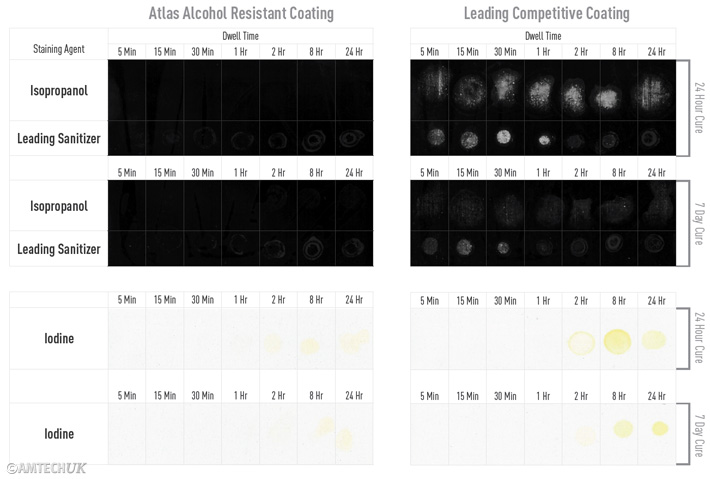 Atlas demonstrated little to no staining from alcohol, sanitizer,
and iodine verses leading competitive floor coating
SPECIFICATIONS
Description:
Polymer emulsion.
Appearance:
Milky white
Specular Gloss (60°) ASTM D1455-87 (2008):
> 80
Viscosity (Brookfield) @ 68°F (20°C):
< 10 centipoise
Coverage Rate:
2500 to 3000 ft²/gal
61 to 74 m²/litre
Dry Time:
About 30 minutes.
Buffability:
Excellent.
Removability ASTM D1792-06:
Good.
VOC 40 CFR Part 59 Subpart C:
< 0.25
Total Solids:
25%
Non-Volatile Solids ASTM D2834-95 (2008):
20%.
Fragrance:
Mild odor.
Slip Resistance ULTM410:
UL pending.
Shelf Life ASTM D1791-93 (2008):
1 year.
Density ASTM D1475-98 (2008):
8.5 lb/gal @ 68°F, 1.02 kg/L @ 20°C
Detergent Resistance ASTM D3207-92 (2008):
Excellent.
Freeze/Thaw ASTM D3209-93 (2008):
Passes 3 cycles.