19" 55 Litre Battery Operated Scrubber Dryer With Traction
Light walk behind scrubber with self-driving system, making cleaning never so easy. With 55L water tank, suitable for cleaning areas of 1,000 to 2,000², widely used in production workshops, airports, bus stations, schools, supermarkets, hospitals, etc.
Benefits of the TVX T55BT
High working efficiency - New digital control system enables clear and simple operation, which can effectively prolong the service life of battery and motor.
Safety design of soft start - Soft start and automatic emergency stop design ensure the safety of operators.
Convenient operation - The ergonomic structural design makes it easy to operate and comfortable to use, thus you won't feel much tired even after the long time working.
Cost-saving - No tools are needed to replace the rubber. Four sides of the rubber can be used, extending the using life.
TVX T55BT Features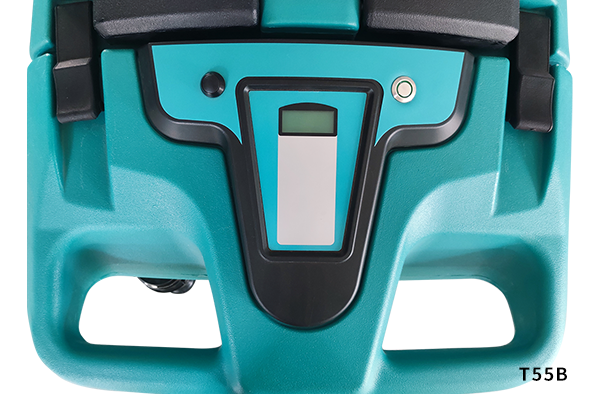 Intelligent digital control system
When the machine starts working, the speed of the brush will gradually increase to ensure that the ground will not be worn due to the sudden operation of the brush, thus effectively protecting the ground lustre and reducing the wearing of the brush.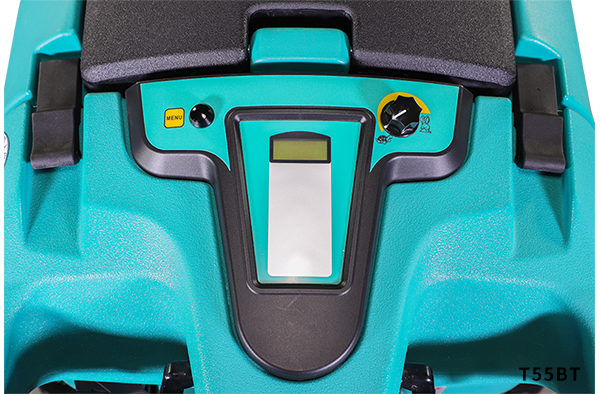 Automatic brush assembly/disassembly system
You can complete the assembly/disassembly of brush operation quickly just by pressing the button, which is simple and convenient.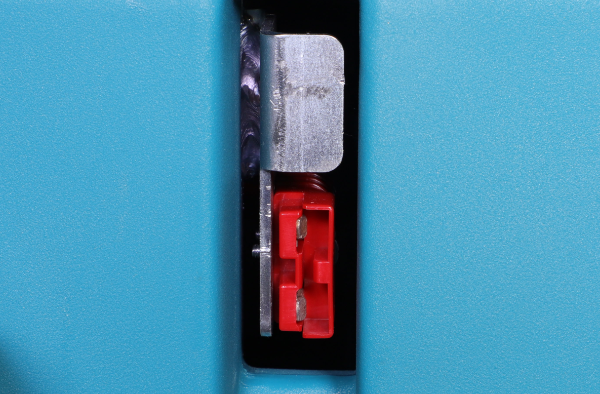 External charger port
The external charger port is designed for charging batteries without flipping over the water tank, which is convenient and quick.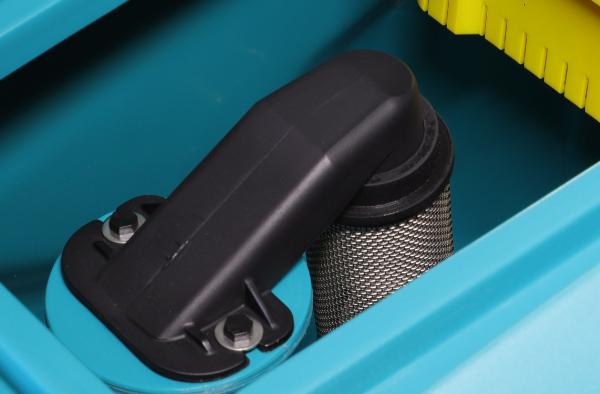 Anti-overflow design for suction opening
The design effectively solves the problem of water inflow into vacuum motor when the recovery tank is full, thus avoiding the damage of vacuum motor.
The TVX T55BT floor scrubber dryer is suitable for cleaning floors types of cement, resin, marble, ceramic tile and so on, and can be widely used in areas including production workshops, airports, bus stations, schools, supermarkets, hospitals, logistics centres etc.
FREE DEMO – Call one of our trained sales team to book 01444 232211

SPECIFICATIONS
| | |
| --- | --- |
| Working width | 510 mm |
| Squeegee width | 780 mm |
| Forward Speed | 0 to 4.5 Km/h |
| Performance | 2250 m²/h |
| Brush pressure | 35 Kg |
| Brush rpm | 180 rpm |
| Solution tank | 55 Litres |
| Recovery tank | 65 Litres |
| Dimensions | 1300mm x 550mm x 1030mm |
| Net weight | 115 KG |
| Brush motor | DC24V/500W |
| Suction motor | DC24V/390W |
| Drive motor | DC24V/120W |
| Batteries | 2 x 12V |
| Meets European CE Standards | Yes |
VIDEOS