GET 10% OFF, Offer Ends 31st December

Ceiling & Wall Cleaner is a unique and highly effective cleaner.
It removes soil residues such as smoke, soot, oil, nicotine and cooking vapours from porous and non-porous ceiling and wall surfaces. It breaks down the soil binders without the use of enzymes, detergents, bleaching agents or solvents. It can be applied to all water and colour fast surfaces.
It cleans and restores surfaces that were previously thought difficult or impossible to be clean..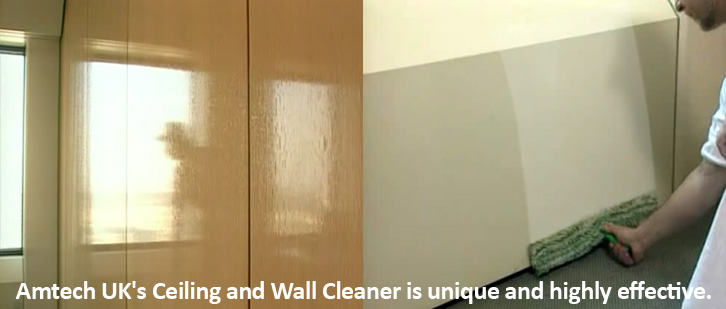 FEATURES
Superior Cleaning Results
No Sticky Soap or Detergent Residues
Removes Years of Soil Build-Up
Environmentally Preferable
No Toxic or Hazardous Butyls
Will Not Bleach or Damage Surfaces
Absolutely Odourless
User Safe

ADVANCED FORMULATION CONTAINING
Soap & Detergent Free
Odour Free
Non-Toxic
Hypoallergenic
NO VOC's
NO Enzymes
NO Bacteria
NO Bleach
NO Toxic Oxidizing or Reducing Agents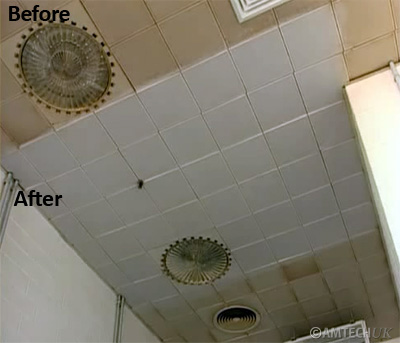 Ceiling and Wall Cleaner is the most advanced and effective cleaner of its type available on the market. Not only does it guarantee you extraordinary results, it is also totally safe!
If you think that Ceiling & Wall Cleaners are created equally, your perception of "clean" will be changed after the first time you use our Ceiling & Wall Cleaner.
It can be used in areas with poor ventilation without the worry of harmful vapours.
Ceiling & Wall Cleaner is completely soap free and will not leave a soapy sticky residue behind that can lead to fast re-soiling. Enjoy huge cost savings with this exceptional product.
Dilution:
Dilute Ceiling & Wall Cleaner 1:1 to 1:8 with HOT, WARM or COLD water, depending on soil conditions. Use the lower ratios (1:2 - 1:3) when surfaces are extremely soiled.
VIDEOS