The M3 MotorScrubber can be used for a multitude of cleaning and polishing tasks. Use the MotorScrubber for tight and hard to reach areas for example around toilets and changing room furniture, in swimming pools, on stairs and tiled walls. The M3 can also be used to clean vehicles, boats and trains.
The MotorScrubber is 100% waterproof* making it ideal for scrubbing the scum line from swimming pools, fountains and other water features.
It's impressive high torque motor delivering 360rpm lifts the dirt without the need for over exertion by the user. Manufactured with Hitachi NikAlloy gears and using car engine valve technology ensure ultimate reliability.
Available in 3 different handle lengths, Short (38cm Fixed), Medium (75cm Telescopic) and Long (125cm Telescopic). The MotorScrubber's solid cast aluminium control handle with soft rubber grip quick release flip clip, gives you super fast adjustments of the telescopic pole, making the M3 MotorScrubber perfect for a wide range of cleaning tasks.
M3 MotorScrubber Kit Includes:
1x MS4000 MotorScrubber including control handle and telescopic pole.
1x MS3114C Full harness and battery
1x MS1580 Battery Charger
1x MS1041 Medium duty brush
1x MS1046 Pad holder
1x MS1062 Green pad
1x MS1064 Red pad
1x MS1066 White pad
1x MS1053 Microfibre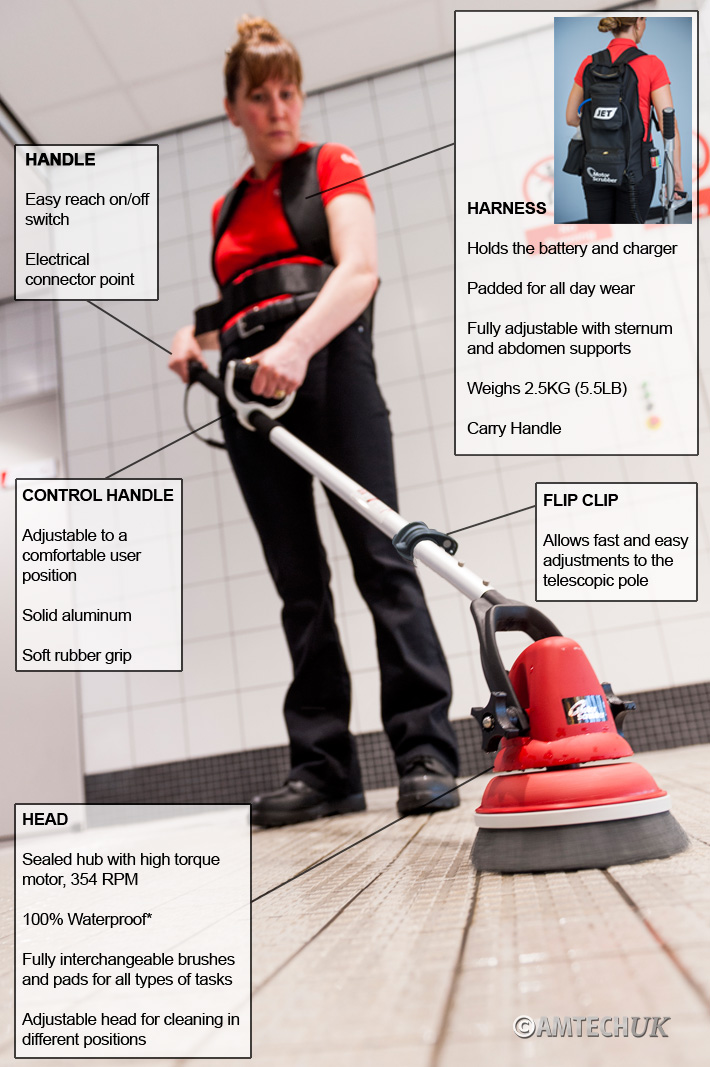 *Guidlines apply, see user manual.

SPECIFICATIONS
| | |
| --- | --- |
| Battery: | 2.2kg 12 Volt, 1 Ah Sealed Acid |
| Run Time: | 4 Hours |
| Charging Time: | 8 Hours |
| Scrubbing Width: | 18Cm (7.5") |
| Performance: | 120 M² / Hour |
| Linear Performance: | 666 M / Hour |
| Brush Pressure: | 5 Kg = 19.7 G/Cm²P |
| Brush RPM: | 360 |
| Motor Torque: | 11.18 G/Cm |
| Machine Weight: | 1.5 Kg |
| Backpack Weight: | 2.5 Kg |
| Dimnsions M3L | W 17cm x H 15cm x L 160 cm |
| Dimnsions M3M | W 17cm x H 15cm x L 112 cm |
| Dimnsions M3S | W 17cm x H 15cm x L 38 cm |
| CE Approved | YES |
VIDEOS
The M3 MotorScrubber