Low Moisture Carpet Cleaning
THE LATEST TECHNOLOGY IN LOW MOISTURE CARPET CARE
Environ HP, A water based, no residue, low moisture, fast dry, anti-wick, soil encapsulating formula.
This crystallizing polymer captures and suspends soil particles in the carpet and forms a crystal that will not attract other soil. The encapsulated soil particles can then be extracted with normal routine vacuuming. Since there's no dirt attracting residue left behind, the carpet stays clean longer.
The advantage of cleaning with Environ HP Encapsulate Cleaner is that it eliminates the need for rinsing. Any remaining residue left in the carpet will be encapsulated and can continue to be removed by post vacuuming. Hydrogen peroxide boosts cleaning efficiency with the added power of oxygen.
Safe for stain resistant, most wool, and all types of synthetic carpet fibre. Environ HP Encapsulate Carpet Cleaner does NOT contain VOC's, phosphates, colour brighteners or solvents.
Environ HP has an integrated multi purpose encapsulation formula with Hydrogen Peroxide.
How does Environ HP Encapsulation cleaner work?

A. Application of Environ, encapsulates soil and grease particles in a crystallized polymer coating.
B. The crystallized polymer lifts soil and grease away from the surface of carpet fibres when vacuumed.
It can be used as a:
Traffic lane pre spray
Bonnet/Pad cleaner
Hot water extraction boost/rinse detergent
Upholstery cleaner
Tile and grout cleaner

Environ HP is designed to help conquer the following problems in the carpet cleaning industry when used in conjunction with the Orbital SprayBorg Floor Cleaning Machines or other low moisture floor cleaning equipment: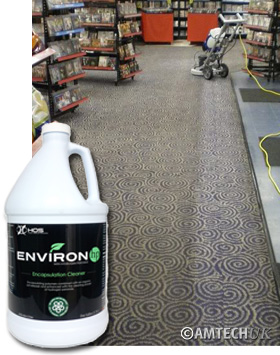 Wicking/Recurring stains
Wet carpets/Excessive drying times
Sticky residues
Stubborn organic stains like coffee, blood, urine, wine and more
Wrinkles and carpet shrinkage
Mildew pet and other indoor air pollutants
Browning
Directions of use:
Bonnet, traffic lane pre-spray and upholstery cleaning per 3.8 litres.
Dilutions with hot or cold water:
Light = 1:128 Medium = 1:64 – 1:42 Heavy = 1:32
Spray Environ HP thoroughly on traffic lanes and soiled areas. Dwell time is not necessary when used with the orbital floor machines.
Hot Water Extraction Rinse Detergent: Works with hot or cold water.
Truckmount dilutions 8-16 oz per 19 Litre stock solution
Portable extractor: 1-4 oz per 3.8 Litres
pH neutral at diluted ratios
As with all cleaning products check for colour fastness in an inconspicuous area.