Orbot SLiM Floor Cleaner
Catalogue code:SLIM
Orbot SLiM
EXPERIENCE THE NEW METHOD to CLEAN ANY FLOOR
Come and try the NEW Orbot SLiM on launch day 3rd July, click here to book your place.
NEW Orbot SLiM, the next generation of orbital hybrid cleaning machines.
The new Orbot SLiM has hybrid power supply technology allowing the operator, freedom to work effortlessly, unattached to a mains power cord for up to 45 minutes. The Orbot SLiM can be operated with the mains power cord for continuous use or by swapping the lithium-ion battery with a fresh fully charged spare lithium-ion battery continue the freedom to work power cord free.
The Orbot SLiM is compact, light and easy to use, ergonomically designed for manoeuvrability in tight complicated areas found in bedrooms and bathrooms. The Orbot SLiM has a quick flip, free floating 11" base to make it ideal for those compact areas.
Weighs 11.8kg (18.6 Kg with accessories) and has specially positioned lifting handles making it easy to lift in and out of vehicles and carry up staircases.
Fitted with a 45psi pump to apply the cleaning solution directly to the surface without contamination.
Fitted with front LED lighting, helping illuminate cleaning areas in low lighting making it easier to see obstacles, dirt and grime.
Fitted with a 2.8L quick change solution tank, easy to clean, fill or swap for prefilled spare.
Can be used to clean carpet, stone, wood, vinyl and safety floors.
Optional accessories include a weight kit, carpet bonnets, scrub brush, carpet brush, floor pads and speciality cleaning products.
Premium engineered to the high quality standards pre-set by the Orbot SprayBorg, LiFe and vibe.
HOS Orbot hybrids, Orbital cleaning technology with the freedom to clean without power cords.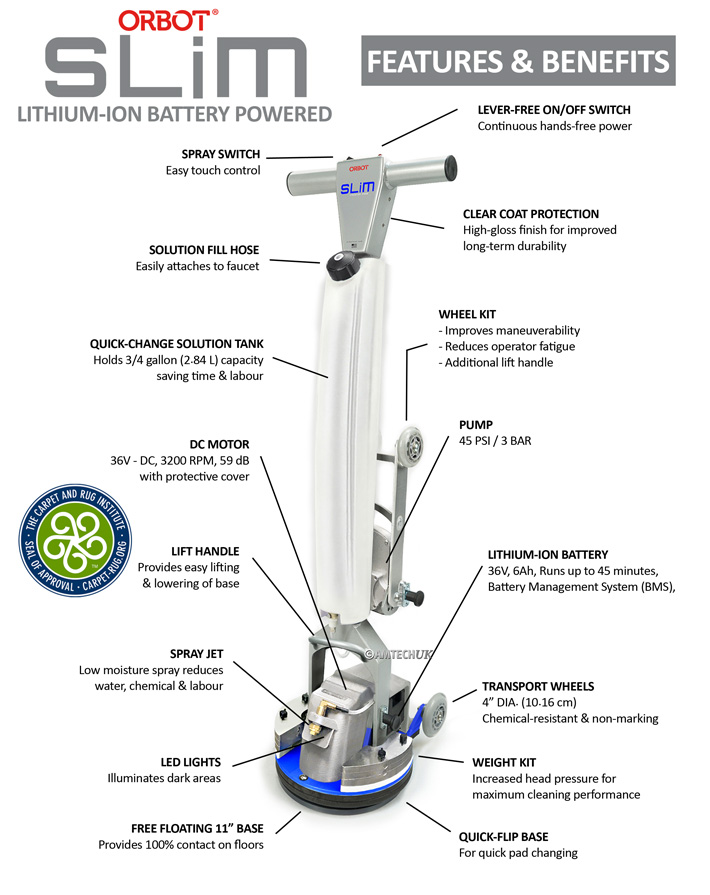 | | |
| --- | --- |
| DRIVER DIAMETER | 10.5 in / 27 cm |
| MOTOR | 36V, DC |
| DUAL SPEED | Orbital 3200 RPM + Rotational 120 RPM |
| LITHIUM-ION BATTERY | 36V / 40W / 6 Ah |
| RUN TIME | Up to 45 minutes (depending on floor/pad) |
| CHARGE TIME | 90 minutes |
| NOISE LEVEL | 59 dB |
| WEIGHT | 26 lbs + 15 lbs (All Accessories) / 11.8 Kg + 6.8 Kg |
| SOLUTION TANK CAPACITY | 3/4 Gal / 2.84 L |
| PUMP | 45 PSI / 3 BAR |
| WEIGHT KIT | 9 lbs / 4 Kg |
| WARRANTY | 2 Year (See Warranty for Coverage) |
| Meets European CE Standards | Yes |