The ORBOT SprayBorg is the most compact, versatile orbital floor machine which can be used in both commercial and residential properties. The unique drive system enables an assortment of pads and brushes to be easily attached to it for cleaning, scrubbing, sanding, stripping, polishing and bonneting.
Not just a floor cleaning machine…ORBOT does it all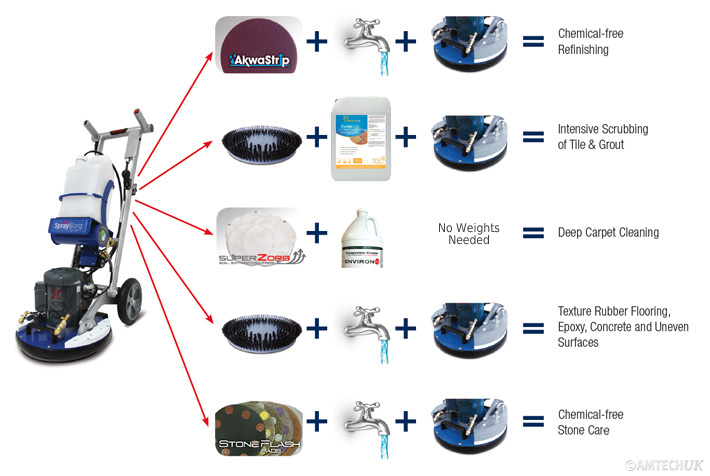 The ORBOT SprayBorg with its 10 Litre bottle, quick release pre-spray cartridge system which is controlled at a finger tip enable the operator to spray precisely in front of the machine.
Free Accessories included:
Standard 17" drive plate
Replaceable Velcro driver plate
Glider Disc
3 Bottle Cartridges / 10 Litre each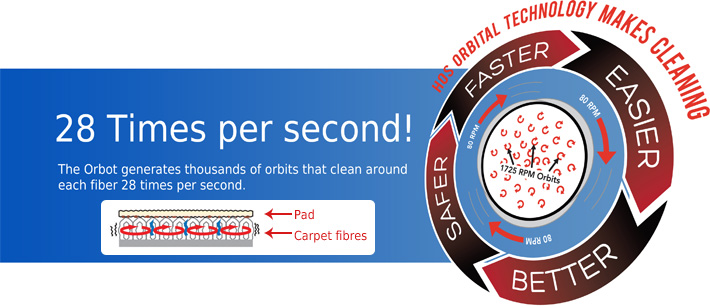 What is orbital technology?
Orbital technology is the secret behind the unique cleaning effect of the ORBOT.

It is an excentric driver system that creates thousands of small circular movements with a diameter of 3/8" at 1725 rpm. At the same time, these "orbits" rotate together around the center of the driver plate at 80 rpm. These two movements are being combined into one system.
This innovative, patented design is called orbital technology.
ORBOT SprayBorg Features:
Compact System – Orbot can fold down to 30" in height for ease of transport and storage.
Easy Tilt Base – Base tilts up for quick and easy pad replacement.
Drive Board Sizes – The Orbot SpraBorg is fitted with a 17" drive board.
Big Wheels – The Orbot SprayBorg's is fitted with large 10" wheels for effortless mobility over staircases, steps, curbs, holes, and other obstacles.
Light Weight – Orbot SprayBorg weighs only 46kg.
Vertical Handle – Vertical handle grips for ease of control and reduced lower back stress.
Motor – Orbot has a powerful 1 horsepower universal 220V/50 Hz. motor which generates 1725 oscillations per minute.
Quick Release Cord – Orbot SprayBorg is fitted with a quick connect/release power cord system.
Velcro Driver Plate System (VDP) – Velcro Drive Plate can be removed and replaced with a new Velcro plate within seconds if required.
Smooth-Glide System – The gliders enable the machine to operate effortlessly on all carpet pile thicknesses.
10 Litre Cartridge Bottle System – Supplied with 3 bottles for premixing solutions.
SprayBorg Flow-Control System – Control the flow rate on the SprayBorg. Settings can range from a fine spray up to 4 litres per minute.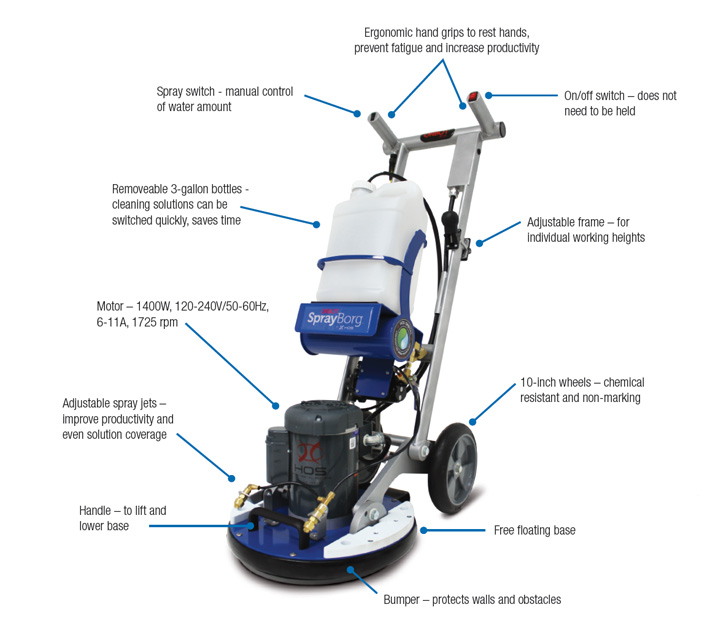 The Mechanics Make the Difference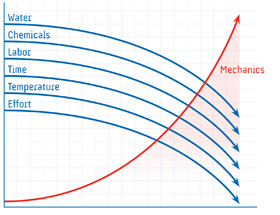 By increasing the mechanical cleaning power with the ORBOT, other factors of floor cleaning like water, time, chemicals, physical effort and temperature are reduced or even eliminated.

This high-performance system enables the diverse applicability of the ORBOT on all different floor types and significantly makes it stand out from its competition
ORBOT Mechanics vs. Conventional Cleaning Machines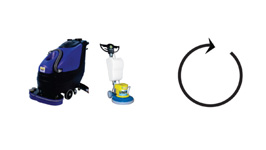 Rotary Disc
Has only one outside rotation – uneven treatment of the floor from only one direction
Many spots can't be reached by pads and brushes
Excessive weight may be too aggressive for some floor types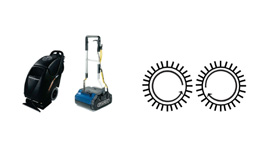 Cylindrical Brush
Brush cleans unevenly and only from two directions
Brush is too aggressive for some floor types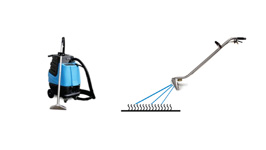 Spray Extraction
No mechanical agitation, therefore increased water, chemicals and heat need to be used
Leads to problems like long drying times, mold growth and recurring stain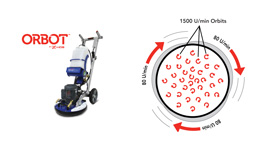 Orbital
Outside rotation of 80 rpm
Inside rotation of 1725 rpm – every floor contact point rotates on a 3/8" diameter path
Dual driver motion – the floor is cleaned from all directions
The ORBOT SprayBorg has it all!
Low-moisture green encapsulation system
Grind and polish stone in 6 easy steps with water only
Conserves water
Low moisture carpet cleaning, carpets dry in minutes
Eliminates recurring stains
Lifts and rejuvenates carpet pile
Cleans tile, grout, VCT, wood & more
Strip emulsion polish from floors with water only
Reduces labour cost
Ergonomically engineered
Simple to use
Cleaning of Microporous, Textured Rubber and Water-sensitive Flooring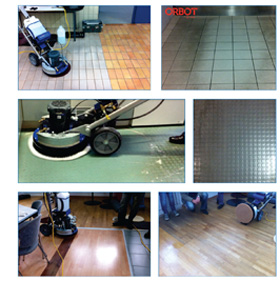 Porcelain Stoneware & Safety Tiles
AkwaStrip pads combined with orbital technology the ORBOT creates a hydraulic suction and a fine scrubbing, making a quick and effective cleaning of microporous floors possible.
Textured Rubber Flooring
Textured rubber flooring can be thoroughly cleaned with our unique brush design. The studs are encircled from all sides due to the ORBOT's oscillating movement.
Water-sensitive Floors
Solution flow is easily controlled and shut off. Moisture sensitive floors such as wood, laminate and cork can be easily cleaned without damage. Floors can be scrubbed with AgiClean pads and dried with SuperZorb pads.
Chemical-Free Stone Care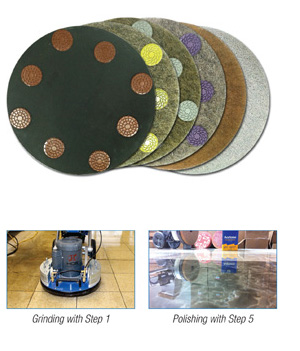 ORBOT StoneFlash pads were specifically designed for orbital machines and can grind, hone and high-gloss polish any natural stone with only minimal use of water and effort
Due to orbital technology, stone floors are worked more intensively and quickly – that's why grits can be skipped with our system and the floors can be fully restored in a shorter amount of time than traditional techniques.
Deep scratches and impurities are easily removed.
Stone pores are mechanically closed tightly creating a highly glossy, reflective and beautifully detailed natural floor.
No orange peel effect!
Even weight distribution across the entire pad eliminates wavy floors.
Can be used on any natural stone: marble, limestone, travertine, terrazzo and more
Chemical-Free Refinishing
The ORBOT removes old coatings with our AkwaStrip pads or sanding screens in no time! No chemicals needed!
Since no chemicals are used, it is possible to remove and renew only the upper contaminated layers, thus saving a lot of time, labor and expense
With every pass, an average of 1-2 coatings are removed
Complete pad contact on the floor increases productivity and ease of use.
Costly and environmentally damaging chemicals are not needed!
The ORBOT SuperZorb pads can be used for regular care and maintenance
Due to the orbital drive technology and ergonomic design, the ORBOT can be used by anyone – without causing fatigue or back pain!
No slippery chemicals are needed, reducing slip and fall liability
Advantage of the ORBOT Base
Conventional Single-Disc Machine
Uneven floor contact of the driver plate decreases productivity and leads to many problems.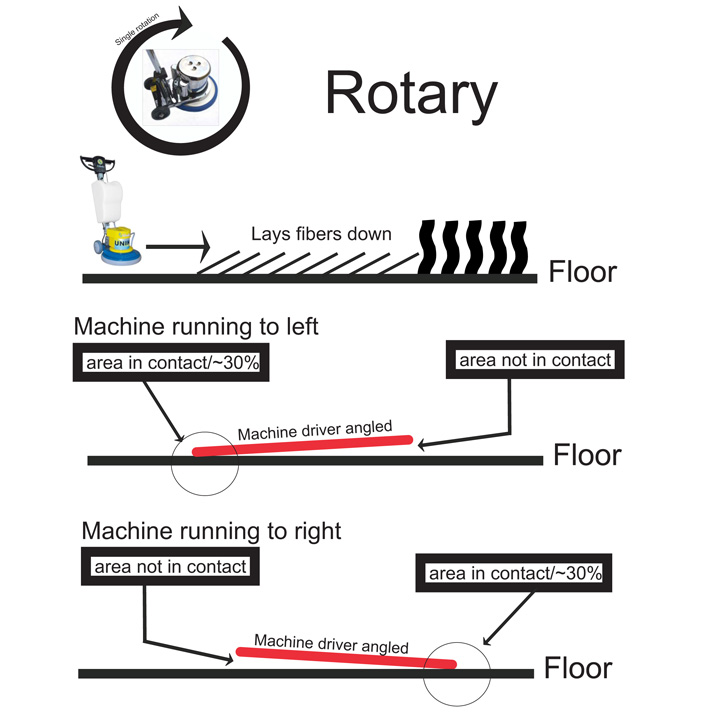 Orbot Orbital Disc Machine
The floating machine base allows the driver plate to always sit flat on the floor, surfaces can be cleaned evenly and controlled. Productivity increases and many problems are solved.

FREE DEMO – Come and visit our Burgess Hill showroom for a free demonstration 8:30am to 5:30pm Monday to Fridays, Saturdays by appointment only. Call one of our trained sales team to book 01444 232211

VIDEOS
FAQ's
Q: What type of floors can I use the SprayBorg on and what accessories will I need?
A: You can maintain and restore many different types of floors, download and refer to the application chart for the correct accessories you will need.

ORBOT Application Chart