The iVo RovaWash is a breakthrough new floor cleaning machine that is very effective on hard floors and carpets. Excellent for entrance matting, stairs and small area floors, the RovaWash is extremely easy to use, and very thorough in its results. Available in 250mm and 350mm sizes.
Quick, simple and easy to use.
Very lightweight and powerful.
Effective indoors and outdoors.
Light and easily carried by one person.
The RovaWash isn't just your typical floor scrubber!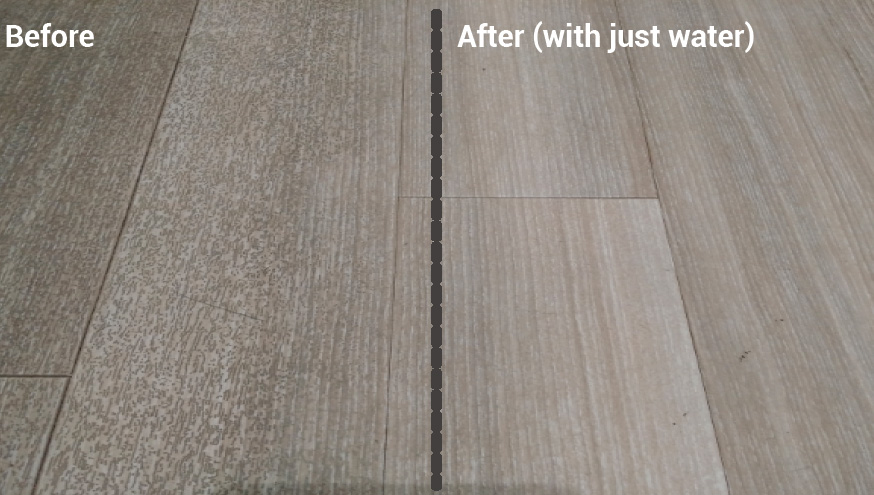 Cleaners across the UK (and in Europe) are falling in love with the iVo RovaWash.
Not only does the RovaWash deliver amazing scrubbing power, it does this with JUST water! That's right, professional and industrial cleaning results that will amaze without the use of harmful chemicals.
The RovaWash is tough and versatile and can be used both inside and outside. It will work on carpet, entrance matting, hard floors, non slip surfaces, chequer plate, Bolon flooring and many other substrates that demand a high performance scrubber.
With simple and minimal assembly, you can be enjoying your RovaWash within minutes of unpacking due to its simplistic design and easy operation.
The RovaWash will deliver many years of quality service.

SPECIFICATIONS
RovaWash 250
| | |
| --- | --- |
| For cleaning areas | 3 m² + |
| Cleaning path | 250 mm |
| Clean tank capacity | 4 litres |
| Waste tank capacity | 1 litre |
| Cleaning head weight | 5 kg |
| Coverage per hour | 300 m² |
| Total machine width | 270 mm |
| Machine weight | 10 kg |
| Cable Length | 12 Meters |
RovaWash 350
| | |
| --- | --- |
| For cleaning areas | 3 m² + |
| Cleaning path | 350 mm |
| Clean tank capacity | 4 litres |
| Waste tank capacity | 2 litre |
| Cleaning head weight | 6 kg |
| Coverage per hour | 420 m² |
| Total machine width | 370 mm |
| Machine weight | 11 kg |
| Cable Length | 12 Meters |
VIDEOS