Includes Traction and Batteries

The Pioneer Eclipse PE300BU is a 20-inch (51 cm) Ultra-High Speed ("UHS") 2000 rpm battery burnisher that rapidly produces high levels of gloss on VCT, polished concrete and other hard floor surfaces. The PE300BU features SteadyOne™ pad control technology that dramatically improves the performance and life span of burnishing pads while producing excellent single-pass results.
The PE300BU keeps 88% of its original pad pressure after 3 hours of burnishing.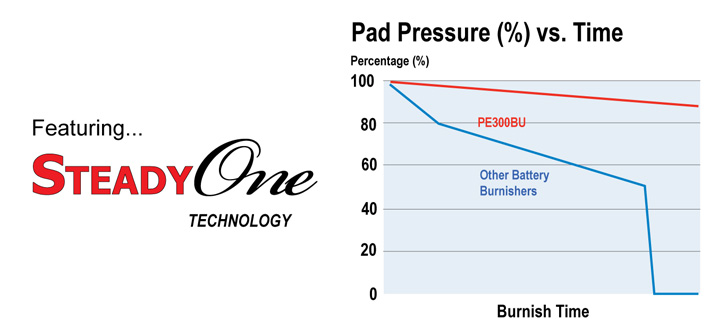 SteadyOne™ uses advanced fluid drive technology to maintain constant pad pressure and produce more consistent results. Unlike other machines using spring mechanisms that vary when a metal coil compresses or extends, SteadyOne™ automatically adjusts the deck as the pad wears to apply the same pad pressure throughout the burnishing operation. Floor care professionals can now get the same one-pass results today … and tomorrow.
CLEAN
The PE300BU comes with a dust control filter system for clean, quiet and efficient burnishing. Powered by three 12-volt 228 AH batteries, the PE300BU burnishes over 26,000 square feet (2400 square meters) while virtually eliminating unwanted noise. Clean, safe and effective, the PE300BU is a burnisher you can count on to maintain floors at any hour in any facility.
QUIET
When battery operated machines are preferred, turn to the battery operated PE300BU. Burnishing over 26,000 square feet per hour (2400 square meters) and producing only 67 decibels, the stealthy performance of the PE300BU will quickly get you out where quiet is in.
FAST
Have you wondered why your burnisher worked great 30 minutes ago, but won't work so great 30 minutes from now? It's because your burnisher doesn't have the ability to adjust to changing conditions. The PE300BU does. With Steadyone Technology built into every PE300BU, the burnishing head automatically adjusts to changing floor conditions and changing pad conditions, producing consistent results every time. Exclusive to the PE300BU, this "smart" adjustment produces great results – fast – in just a single pass.
Features
2000 Rpm pad speed.
Traction control with dual heavy-duty, 8" (20,3 cm) mark free wheels. (Optional)
Three (3) 12 volt, 228 AH batteries produce up to 3 hours of run time.
On-board battery charger allows operator to plug in anywhere.
Enclosed dust control system (cloth or paper bag) for clean operation.
Unitized roto-molded body with wide area cover panel for easy battery access.
Small footprint - only 49" (124 cm) with deck tilted - for compact storage.
Twin rear soft tread 4" (10 cm) caster wheels for a tight turning radius.
Ergonomic handle and controls for comfortable maneuverability.
Quiet (only 67 dBA) 2.5 HP (1.9 kW) electric motor.
90-degree tilt deck for easy pad change.

SPECIFICATIONS
| | |
| --- | --- |
| Burnishing Width | 20 in. (51 cm) |
| Performance | 26,400 ft2/hr (2453 m2/hr) |
| Pad Size | 20 in. (51 cm) |
| Pad Speed | 2000 rpm |
| Noise Level | < 67 db(A) |
| Width | 22 in. (56 cm) |
| Operating Length | 58 in. (147 cm) |
| Storage Length | 49 in. (124 cm) |
| Height | 41.5 in. (105 cm) |
| Weight w/batteries | 600 lbs (272 kg) |
| Weight w/o batteries | 260 lbs (118 kg) |
| Battery Compartment | W 36cm x H 38cm x L 54cm |
| Meets European CE Standards | Yes |