Powr-Flite PFX1350 Carpet Cleaning Machine
Catalogue code:PFX1350
Powr-Flite PFX1350 Extractor – The Super Charged Portable Extractor with more Power than any other system currently available in the market today!
BUNDLE DEAL: Machine, Hose and Wand. £3825.00+VAT >>>
The Powr-Flite PFX1350 instantly recognizable as the most powerful, professional, portable, carpet and upholstery cleaning machine available.
Years of experience and market leading technology combined with top brands Lamb-Ametek and Pump-TEC have been utilized and installed for your piece of mind.
The PFX1350 uses a Pump-TEC high pressure solution pump (500psi) to force solution deep into the fibres allowing the loose soils to be easily recovered by the dual 1500w 3 stage Lamb-Ametek high airflow vacuum system, set in series for maximum velocity. Superb single pass deep cleaning revives fibres for prolonged wear.
In addition the PFX1350 comes fully equipped with a 3000kw inline heater, fully controlled pump pressure system and gauge enabling precise working pressures from 0-500psi, fan assisted electric cooling system, recovery tank viewing window, and easy load rolling wheels, as standard.
The PFX1350 a versatile, reliable, easy to use portable carpet cleaning extractor for professional operators to use in both domestic and commercial environments.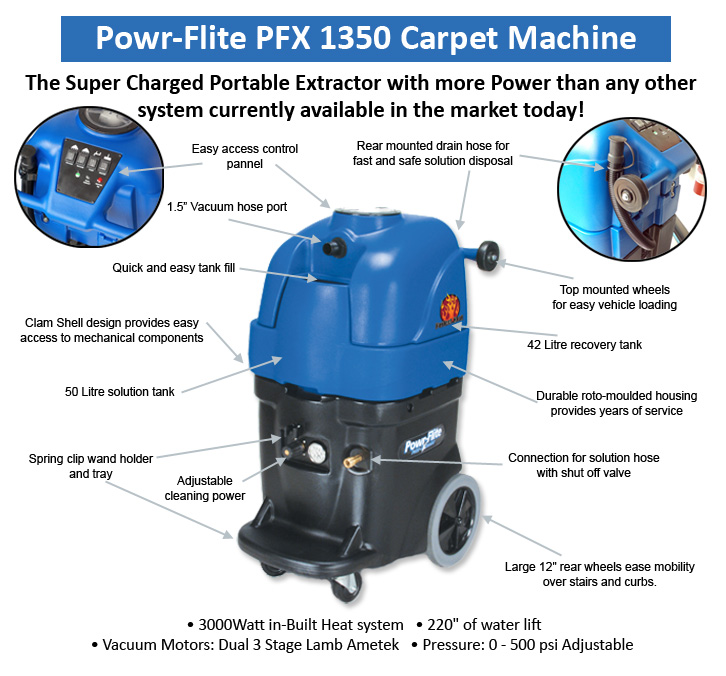 FEATURES
500 PSI adjustable pressure for maximum cleaning power
3000Watt in-Built Heat system cuts through heavy and greasy soils
Two 3-stage powerful Lamb Ametek vac motors delivers 220" of Water lift
Sound suppression system keeps noise at a minimum for operator comfort and safety
Easy-load system enables operator to load and unload without lifting machine
FREE DEMO – Come and visit our Burgess Hill showroom for a free demonstration 8:30am to 5:30pm Monday to Fridays, Saturdays by appointment only. Call one of our trained sales team to book 01444 232211
Warranty Info: For warranty information please see our ordering terms.
SPECIFICATIONS
| | |
| --- | --- |
| Model | PFX1350 |
| Electric Heater | 3000 W Built in heat exchanger |
| Solution Tank Size | 50 Litres |
| Recovery Tank Size | 42 Litres |
| Machine Dimensions (L x W x H) | 81 cm x 58 cm x 114 cm, (32" x 23" x 45") |
| Body Weight | 56 kg, (124 lbs) |
| Vacuum Motor | Twin, 3 stage Lamb Ametek, 1500 W, 5.7" high power |
| Water Lift | 220" |
| CFM | 101 |
| Solution Pump (Adjustable p.s.i.) | 500 psi (34.5 BAR) |
| Pump Motored | 1/2 HP DC |
| Power (V/Amps) | 230 V, 10 A |
| Power Cords | Twin 7.5 m (25') detachable |
| Front Wheel Dimensions | Two 10 cm (4") dia. swivel casters |
| Rear Wheel Dimensions | Two 30.5 cm (12") dia. wheels |
| Parts / Labour Warranty | 1 year* |
| Tank Warranty | 5 year* |
| Meets European CE Standards | Yes |
FREE TRAINING
FREE Carpet & Upholstery Cleaning Training
Amtech UK offer a free Carpet & Upholstery Cleaning Course with every machine purchased to help you achieve the best performance from your new investment. We believe the best way to achieve customer satisfaction is through training and education.
Knowing how to clean carpets & upholstery is just as import as the equipment you buy. The type of equipment you use and the knowledge you gain should work seamlessly together to help you provide your customers the best possible advice and cleaning results.
We will teach you how to set up your new equipment correctly, prepare the area for cleaning and complete the cleaning task. We will provide you with a complete understanding of chemical, applications and use. We will teach you how to remove stains and soil with a systematic approach designed to make the process simple and uncomplicated.
For those who already have equipment but lack the confidence to perform professionally and are looking to improve their knowledge and techniques we offer one to one training tailored to answer all your questions.
PARTS
| | Part Number | Part Name | |
| --- | --- | --- | --- |
| | PT-M58 | Motor Pump CFR, Powr-Flite | |
| | 72854A | Lamb Ametek 3 stage 5.7" High Suction Vacuum Motor | |
| | 72853A | Lamb Ametek Vacuum Motor Mounting Bracket | |
| | 70020B | Gasket Vacuum | |
| | PT-60065 | 500 p.s.i. Gold Pump Head | |
| | PT-31282 | 1000 PSI Pressure Gauge | |
| | PT-70052 | Brass Regulator | |
| | PMF-QD80 | Coupler, QD, Valved 1/4 F | |
| | PT-10022 | Kit B, Pumptec Valves | |
| | PT-10055 | Kit A, Pumptec Plunger / Seal | |
| | PT-10081 | Kit C, .160 Cam Bearing | |
| | PT-70002 | Kit, Pressure Regulator Rebuild | |
| | 71495A | Pump Protection Filter | |
| | 71816A | RFI Filter 20A | |
| | PX103+ | 6" Lid | |
| | X9467 | Vacuum Chamber | |
| | PX25 | Plastic Fitting Hose Barb | |
| | X9066 + 7GL002 | Wheel PFX Series 12" + Cap | |
| | 7GL002 | 1/2" Push Nut And Cap | |
| | PAS36 | Drain Hose Plug / Cap | |
| | PAS37 | Drain Hose Long | |
| | 30.0024.00 | Solution Filling Hose | |
| | PX87 | Rocker Switch | |
| | X9818 | X9818 Power Connector (Male) | |
| | X9817 | Power Connector (Female) | |
| | X9809 | ML-3 15 AMP Female Plug | |
| | X9000 | ML-3P 15 AMP Flanged Inlet | |
| | PX65 | 4" Caster Wheel Black PFX Series | |
| | SSCP19770 | Nozzle Seal / O Ring | |
| | PMF-QD40 | Nipple, QD 1/4M-1/4F Valved | |
| | PMF-AC31V5 | 1.5" Valve Hanger | |
| | PMF-RV2P-EZ | Wonder Wand Trigger Repair Kit | |
| | PMF-QD52 | Coupler, QD 1/8 F | |
| | PMF-QD12 | Nipple, QD 1/8M | |
| | PMF-RV4N-HP | Trigger Repair Kit | |
| | PMF-V4N-HP | Trigger Assembly | |