The Rhino, A Plug In And Go Carpet Cleaning Machine
Who is it for?
The Rhino carpet cleaning machine is suitable for professional carpet cleaners, hotels, sports facilities, offices, schools, and many other buildings with fabric flooring, and furnishings.
What is it?
The Rhino is a light weight portable carpet cleaning machine with a high pressure pump (220psi) and twin vacuum motors. The combination of a high pressure pump and twin vacuums produce amazing cleaning results and fast drying time.
What are the key features and benefits?
Weight is a high priority for operators. Lifting, transporting, and taking the machine up and down stairs is physically hard work. The Rhino machine is incredibly lightweight considering its 50L tank capacity. It only weighs 35 Kg.
Vacuum/suction is fundamental for removing the water, cleaning chemicals, and soil from the fibres. The Rhino has two Lamb Ametek 6.6" vacuums fitted in series. These two vacuums provide huge water lift and reduce the drying time. The vacuum connection hose port is 1.5".
Run time is important for the operator. Less time emptying and refilling means the area can be cleaned quickly and efficiently. The Rhino has two large capacity tanks (42 litres Solution and 50 litres Recovery) both with big openings for filling and cleaning. The recovery tank has a push fit drain hose to make emptying convenient.
The Rhino's 220psi pump produces a great combination of high water pressure and volume to rinse the soil from the carpet fibres. The brass solution connector for the pump is an industry standard ¼" female coupler. The solution connector is safely located away from the electric switch panel.
All of the hose connections and power cable are located on the rear of the machine. This enables the operator to push the machine forward without running over the cables and hose attachments.
Large (12") rear wheels make the Rhino extremely manoeuvrable and help the operator with steps and stairs. The 4" locking caster wheels at the front stop the machine from rolling off.
The power cable is 7.5m long and wraps conveniently around the handle.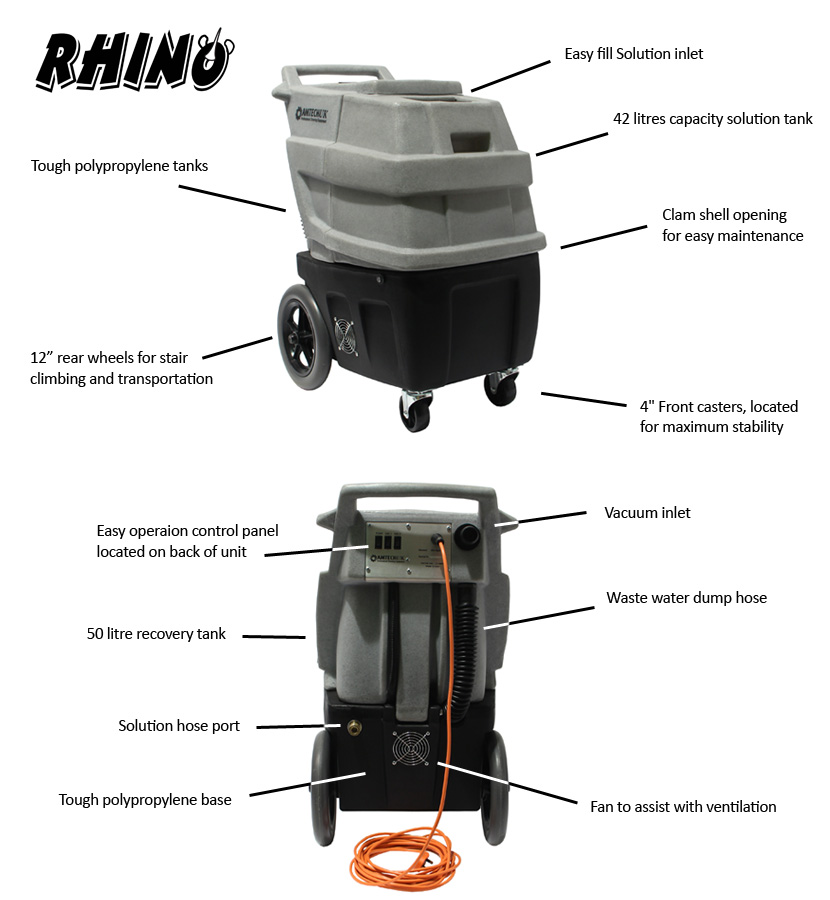 FREE DEMO – Come and visit our Burgess Hill showroom for a free demonstration from 8:30am to 5:30pm Monday to Fridays, and Saturdays by appointment only. Call one of our trained sales team to book 01444 232211
SPECIFICATIONS
| | |
| --- | --- |
| Pump Motor | 220 PSI |
| Vacuum Motors | 2x Lamb Ametek 6.6" |
| Solution Tank | 42 Litres |
| Recovery Tank | 50 Litres |
| Weight | 35 Kg |
| Front Wheels | 4" Locking Caster |
| Rear Wheels | 12" |
| Vacuum Port | 1.5" |
| Dimensions | L 74cm x W 54cm x H 93cm |
| Warranty | 1yr parts/labour |