The strongest protection for hard surface floors.

Use Pioneer Eclipse LockOut to create an ultra hard, water tight and dust repelling surface.
Protecting a floor surface from future effects of foot traffic and exposure to water and other contaminants will greatly improve the effectiveness of daily cleaning procedures and increase the life of the concrete floor. Use Pioneer Eclipse LockOut to create an ultra hard, water tight and dust repelling surface.
Treatable Floor Surfaces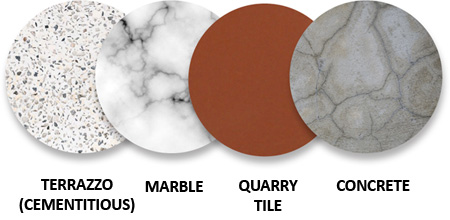 Pioneer Eclipse LockOut is a micro-film forming surface treatment that hardens and protects the floor. It creates a breathable, ultra-hard, water and dust repellent surface. The formulation is an acrylic polymer and colloidal (microscopically dispersed) lithium blend that offers superior stain protection and the ability to burnish the floor to a high gloss shine.
Features:
Reduced Time And Cost.
Easy Application Methods.
Forms a Durable Surface.
Does Not Support Mildew or Fungi Growth.
Pioneer Eclipse LockOut protects hard floor surfaces from staining by repelling contaminants before they can penetrate the surface. This "smart" chemical also repels water and allows the concrete slab to breathe to prevent internal damage from under slab moisture.
After application, the floor can be burnished with an UHS burnisher to elevate the floor to very high gloss level. Even more, LockOut may increase the floor gloss by 5 10 gloss points, reducing the amount of burnishing required.
DIRECTIONS
Read all directions and Safety Data Sheets (SDS) before using.
Clean floor with a neutral cleaner. Allow floor to dry thoroughly.
Apply thinly and evenly on the floor using a pump-up sprayer at an approximate coverage rate of 3500 sq ft per gallon (86 sq m per liter).
Spread evenly on the floor using a clean micro-fiber applicator or lint free flat fiber mop pre-sprayed with LockOut.
After the product has dried thoroughly, burnish the floor using a hair blend pad.
Apply a second coat, following instructions 2-4.
Do not allow water on the floor for at least 24 hours.

SPECIFICATIONS
| | |
| --- | --- |
| Description: | Hard floor protector. |
| Appearance: | Milky, white liquid |
| pH: | 10.5 |
| Flash Point: | >200°F / >93°C |
| Viscosity (Brookfield): | >10 centipoise @ 68°F (20°C) |
| VOC: | >100 g/L 40 CFR Part 59 Subpart D |
| Fragrance: | No added fragrance |
| Density: | 8.4 lb/gal @ 68°F / 1.01 kg/l @ 20°C |
| Solubility: | Miscibile in water |
| Container: | 10 Litres |