Tornado ECO 500 Carpet Cleaning Machine
Catalogue code:98846
The Ultimate Cleaning Power For Professional Cleaners
The all new Tornado ECO 500 AW Plus at 500 psi (34.5 bar) and with its built-in 3000 Watt heat exchanger is the most powerful portable cleaning system on the market today.
It is designed to deliver unsurpassed Carpet, Upholstery, Curtains and Hard Surface Cleaning and Restoration. In essence it can clean virtually every surface in a building. The Tornado ECO 500 AW Plus will provide 500 pounds of pressure per square inch of deep cleaning power to produce superior cleaning results.
CFR's fluid control technology enables the operator to thoroughly wash the surface without over wetting. This unique fluid control system simply means drying times are cut to a fraction of conventional machines. This technology along with a built-in 3000 Watt in-line heat exchanger will handle the toughest restoration jobs.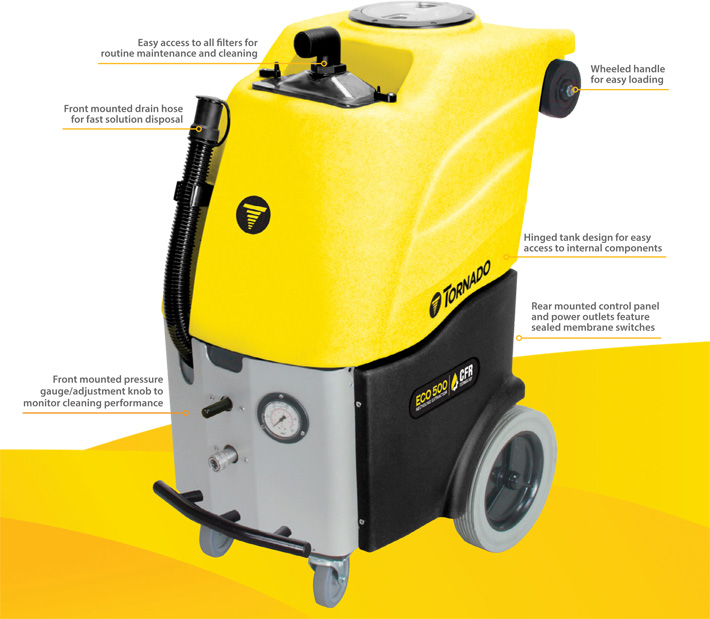 Seven Times More Efficient Than Conventional Extractors
The Tornado ECO 500 recycles cleaning fluids through CFR's patented filtration system. Cleaning solution enters the recycling chamber and the large debris is trapped in the stainless steel filter at the inlet. The solution is then passed through the low micron disposable secondary inlet filter.
The recycled solution enters the tank, passes through a disposable cartridge final filter and finally through an inline strainer for reuse. The efficient system actually allows one litre of water to do the work of seven in a conventional machine.
Recycling Filtration Process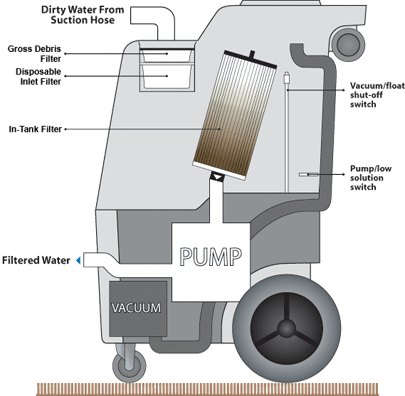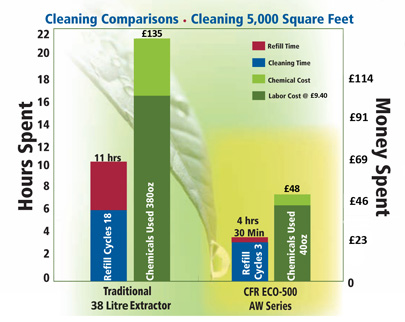 Total Fluid Control Prevents Over Wetting
CFR's patented High Energy Application and Recovery System is based on three unique principles:
High-Energy Micro Application atomizes high velocity solution to power-wash each individual fibre.
Instantaneous Solution Recovery integrates solution application and retrieval into a single, uninterrupted process. Since the solution is never subject to gravity, it is almost impossible to over wet fabrics.
Continuous Flow Recycling virtually eliminates emptying and refilling in the middle of a job because the patented CFR filtration system cleans the recovered solution and recycles it up to

seven

times without loss of cleaning effectiveness therefore delivering Concentrated Cleaning Energy Without Over wetting.
CFR Designed for Upholstery and Fabric Surfaces
The Tornado ECO 500 offers a unique cleaning system for Upholstery, Curtains and Fabric Surfaces. The patented tools designed to efficiently clean all fabrics surfaces. Continuous Flow Technology enables the operator to clean Upholstery and fine fabrics at pressures of more than 200psi for deep down cleaning and yet leaves the fabric dry in less than 30 minutes ready for people to sit on.
CFR's CONTINUOUS FLOW RECYCLING TECHNOLOGY produces deep cleaning power, faster dry times and higher cleaning productivity. Tornado ECO 500 recovers more than 92% of the cleaning solution cutting the drying times to a fraction of the conventional machines.
Applications:
Aircraft Carpet Cleaning
Schools and Universities
Hospitals and Healthcare Facilities
Nursing Homes
Hotels and Resorts
Restaurants
Government Facilities
Commercial Buildings
Casinos
Product Features:
500 PSI adjustable pressure for maximum cleaning power
3000 Watt in-Built Heat system cuts through heavy and greasy soils
New Advance Performance Lamb Ametek vacuum motor delivers 673 peak airwatts
Easy-load system enables operator to load and unload without lifting machine
FREE DEMO – Come and visit our Burgess Hill showroom for a free demonstration 8:30am to 5:30pm Monday to Fridays, Saturdays by appointment only. Call one of our trained sales team to book 01444 232211
Warranty: For warranty information please see our ordering terms.
SPECIFICATIONS
| | |
| --- | --- |
| Electric Heater | 3000 W, In Built Heat Exchanger |
| Tank Size | 55 Litres |
| Machine Dimensions (L x W x H) | 74 cm x 51 cm x 101 cm,(29" x 20" x 40") |
| Body Weight | 44 kg,(98 lbs) |
| Peak Airwatts | 673 |
| Vacuum Motor | Lamb Ametek, Single, 6.6" diameter |
| Maximum CFM | 141 |
| Solution Pump (Adjustable p.s.i.) | 500 psi (34.5 BAR) |
| Pump Motored | 1/4 HP DC |
| Power (V/Amps) | 230 V, 10 A |
| Power Cords | Twin 7.5 m (25') detachable |
| Front Wheel Dimensions | Two 10 cm (4")dia. swivel casters |
| Rear Wheel Dimensions | Two 25 cm (10") dia. Wheels |
| Parts / Labour Warranty | 1 year* |
| Tank Warranty | 5 year* |
| Meets European CE Standards | Yes |
FREE TRAINING
FREE Carpet & Upholstery Cleaning Training
Amtech UK offer a free Carpet & Upholstery Cleaning Course with every machine purchased to help you achieve the best performance from your new investment. We believe the best way to achieve customer satisfaction is through training and education.
Knowing how to clean carpets & upholstery is just as import as the equipment you buy. The type of equipment you use and the knowledge you gain should work seamlessly together to help you provide your customers the best possible advice and cleaning results.
We will teach you how to set up your new equipment correctly, prepare the area for cleaning and complete the cleaning task. We will provide you with a complete understanding of chemical, applications and use. We will teach you how to remove stains and soil with a systematic approach designed to make the process simple and uncomplicated.
For those who already have equipment but lack the confidence to perform professionally and are looking to improve their knowledge and techniques we offer one to one training tailored to answer all your questions.
PARTS
| | Part Number | Part Name | |
| --- | --- | --- | --- |
| | 72855B | Lamb Ametek 6.6" High Suction Vacuum Motor | |
| | PT403 | 500 p.s.i. Blue Pump Head | |
| | PT-M411 | Bluffton Pump Motor | |
| | PMF-QD80 | Coupler, QD, Valved 1/4 F | |
| | PT-10022 | Kit B, Pumptec Valves | |
| | PT-10055 | Kit A, Pumptec Plunger / Seal | |
| | PT-10075 | Kit C, .105 Cam Bearing | |
| | 10158A | Kit Pressure Regulator Rebuild CFR ECO | |
| | 72777B | Filter Final cartridge CFR Eco 500 | |
| | 72774B | Filter Basket Inlet Stainless Steel Eco 500 | |
| | 72776B | CFR Eco 500 Inlet Filters Pack of 6 | |
| | PX103+ | 6" Lid | |
| | PX25 | Plastic Fitting Hose Barb | |
| | X9063 + 7GL002 | 10" Rear Wheel + Cap | |
| | 7GL002 | 1/2" Push Nut And Cap | |
| | X9594 | CFR ECO 500 Drain Hose | |
| | 30.0024.00 | Solution Filling Hose | |
| | PX87 | Rocker Switch | |
| | 72411A | CFR ECO 500 Hour Meter | |
| | X9818 | X9818 Power Connector (Male) | |
| | X9817 | Power Connector (Female) | |
| | X9809 | ML-3 15 AMP Female Plug | |
| | X9000 | ML-3P 15 AMP Flanged Inlet | |
| | 72800A | Coupler QD SS | |
| | SSCP19770 | Nozzle Seal / O Ring | |
| | PMF-QD40 | Nipple, QD 1/4M-1/4F Valved | |
| | PMF-AC31V5 | 1.5" Valve Hanger | |
| | PMF-RV2P-EZ | Wonder Wand Trigger Repair Kit | |
| | PMF-QD52 | Coupler, QD 1/8 F | |
| | PMF-QD12 | Nipple, QD 1/8M | |
| | PMF-RV4N-HP | Trigger Repair Kit | |
| | PMF-V4N-HP | Trigger Assembly | |
| | 71816A | RFI Filter 20A | |